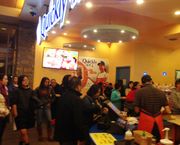 Serramonte Center Food Court
Hwy 280 & Serramonte Blvd. Daly City

Rate this shop at Yelp.com

Quickly at Daly City Serramonte Shopping Center's Food Court was Grand Opening on Sept. 21st 2013(Saturday).

Serramonte is a large 1960s residential neighborhood on the border of Daly City and Colma in the suburbs south of San Francisco, California, that is also home to numerous shopping malls, strip malls, and big box retailers. The nexus of Serramonte is Serramonte Center, originally opened in 1968, near the intersection of State Route 1 and Interstate 280, in the triangle formed by Callan Boulevard, Serramonte Boulevard, and Junipero Serra Boulevard which originally opened in 1968.


from Asian strip center to American regional mall, Quickly's trendy never stop.