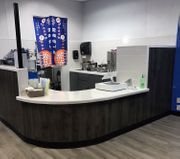 3025 McHenry Ave, Suite H

Rate this shop at Yelp.com

Quickly at Modesto was Soft Opening on Jan 6th, 2019(Sunday).

Modesto /məˈdɛstoʊ/(Italian for "modest"), officially the City of Modesto, is the county seat and largest city of Stanislaus County, California, United States. With a population of approximately 201,165 at the 2010 census, it is the 18th largest city in the state of California and forms part of the Modesto-Merced combined Statistical Area. The Modesto Census County Division, which includes the cities of Ceres and Riverbank, had a population of 312,842 as of 2010.

Modesto is the home of Gallo Family Winery, the largest privately owned winery in the world.