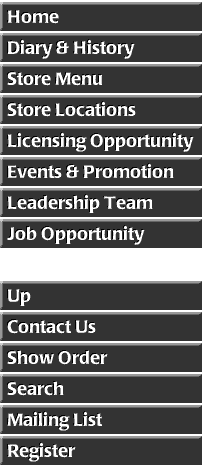 609 E 12th St (Formerly Tapioca Express)
between 6th Ave & 7th Ave

Rate this shop at Yelp.com

Quickly at East Oakland was Grand Opening on March 14th, 2009 (Saturday).

East Oakland stretches between Lake Merritt in the northwest and San Leandro in the southeast. It generally has a diagonal layout. East Oakland has numbered avenues (1st to 109th) that run northeast to southwest, and numbered streets (East 7th to East 34th) that run northwest to southeast. Interstates 580 and 880 also run northwest to southeast. Main northwest-southeast thoroughfares include East 14th Street (renamed International Blvd. in 1996 within the city of Oakland only), MacArthur Blvd., Foothill Blvd., Bancroft Avenue, and San Leandro Street (being the main one for commercial vehicles). Main northeast-southwest thoroughfares include Fruitvale Ave., 35th Ave., High St., Seminary Ave., 73rd Ave. (which becomes the Hegenberger Expressway south of East 14th St. to Oakland International Airport), and 98th Ave. East Oakland is home to Holy Names University, Mills College, the Oakland Zoo, the Oakland Coliseum and the Oracle Arena.

The area between 70th and 109th Avenues and near the airport became notorious, starting in the 1980s, as one of the most violent and drug/gang dominated regions in the nation, after much of the area experienced a drastic socioeconomic decline following the 1970s; prior to this, most of East Oakland was middle-class and almost suburban in nature. Many middle-class families (most often from districts southwest of MacArthur and Foothill Boulevards) relocated to neighboring cities in the Bay Area, leaving the poorest citizens behind. Also, many long-time industrial jobs in the area disappeared as the economy changed and factories along the Southern Pacific railroad tracks shut down, most notably regional facilities for Granny Goose, a regional snack foods brand, and Gerber.

The eastern side of East Oakland, including Maxwell Park and the Oakland hills, traditionally neighborhoods northeast of MacArthur Blvd. and/or I-580, are populated by higher income families and young professionals.