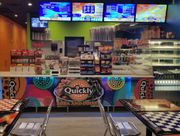 3521 West 3500 South

Rate this shop at Yelp.com

Quickly at West Valley City was Grand Opening on Dec. 8th, 2017 (Saturday).

West Valley City is a city in Salt Lake County and a suburb of Salt Lake City in the U.S. state of Utah. The population was 129,480 at the 2010 census, making it the second-largest city in Utah. The city incorporated in 1980 from a large, quickly growing unincorporated area, which was variously known as Granger, Hunter, Chesterfield, and Redwood. It is home to the Maverik Center and USANA Amphitheater.